Emo, Portarlington, Co. Laois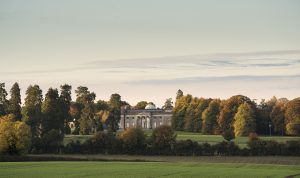 Emo Court was designed by James Gandon in 1790. It was lovingly restored through the 1980's by Major Cholmeley Harrison. In 1995 the estate was handed over to the State by Cholmeley Harrison. The 250 acres of the estate are managed by the Office of Public Works (100 acres of parkland including the lake).
At the front of the house the Wellingtonia Avenue runs for 1 mile.  It is named after the large trees, Sequoiadendron giganteum, which line it.  A beech walk behind the house leads to the nursery lake, which covers an area of 25 acres.  Closer to the house there are formal lawns with a number of statues.  The Four Seasons statues represent Winter, Spring, Summer and Autumn.  The bronze statue of Polyhymnia sits near the house and is surrounded by catmint (Nepeta).  The Huntsman and His Dog can be found in the area known as "the Clucker".  Bacchus stands in "the Grapery" while Ceres awaits visitors at the end of the yew walk.
Behind the house the arboretum covers approximately 20 acres.  Here grass pathways meander through an impressive variety of trees such as the Bhutan Pine, the Tulip Tree (Liriodendron Tulipefera) the Handkerchief Tree (Davidia involucrata) and cedars including the Blue Atlas Cedar and the Cedar of Lebanon.  A Walnut tree is a source of food for red squirrels, which live on the grounds.  So is the large Spanish chestnut, which produces edible chestnuts.  The bark of this tree has a wonderful texture.  Also interesting is the lime tree avenue.  It pre-dates Emo Court and is reminder of original building Dawson Court.