Castleview, Durrow, Co. Laois, R32 EA02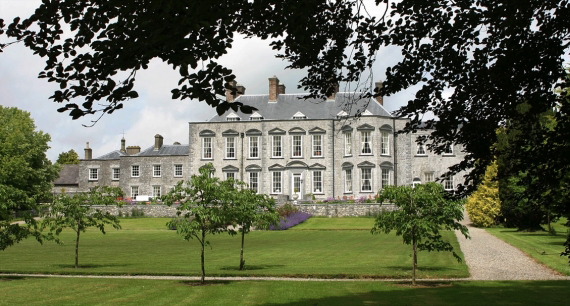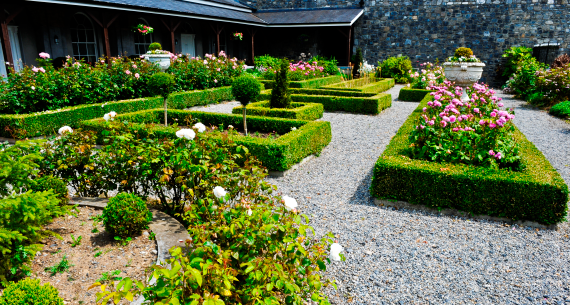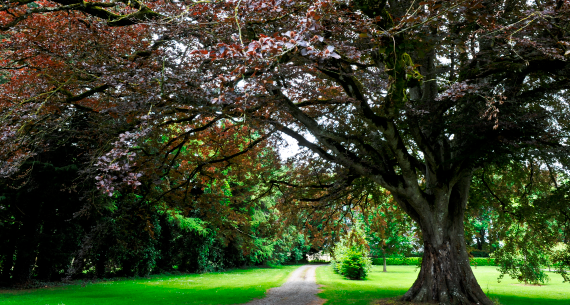 "Demesne gardens with formal terraces, herbaceous borders, and a vegetable and flower garden with mixed annuals."
Renovations to the house and gardens started in 1999.  South facing terraces were put in and planted with pink, blue and white flowering plants.  At the bottom of the steps an avenue of scented roses was created, containing: The Mayflower, Brother Cadfael, Gertrude Jekyll, Rambling Rector, New Dawn, Mary Rose, and Grace.  Pink cherry trees draw the eye to the far end of the lawn.  This area is called "The Good South".  Adjacent is the Pleasure Garden, which is home to a tall monkey puzzle tree, a huge Buxus Sempervirens and a copper beech with a circumference of 7 metres!  Paths lead to the gazebo, which is topped with a weathervane depicting a bridal couple.
Steps lead to the Courtyard, which has a rectangular lay out. Buxus topiary gives structure in winter, while Mock Jasmine and scented roses provide a wonderful fragrance throughout summer.  Among the roses are: Gertrude Jekyll, Jubilee Celebration, Winchester Cathedral, The Generous Gardener, Alnwick Castle, John Clare, Wildeve, Comte De Chambord and the thornless Zepherine Drouhin.  From here visitors can look down on the Walled Garden, which is divided by hedging into several "rooms".  There is a Herb Garden and a Vegetable Garden, which is full of produce chosen by the Head Chef.  Produce from the Fruit Garden is used for making jams, desserts and cordial.  The Flower Border supplies the hotel with cut flowers – lilies and a variety of roses such as Queen of Sweden, The Fairy, Little White Pet, Rosa Mundi, Mrs John Laing, New Dawn, Adelaide De Orleans, Madame Affred Carerra, Penelope and Ann Boylen.
The river walk, which forms part of the Laois Leafy Loop Walk, runs along the Erkina river.  Along here bluebells and wild garlic grow under the trees, which were planted in Victorian times.  The walk ends behind the Church of Ireland graveyard where the original castle owners, the Ashbrooks, are buried.