Dove House, Main Street Abbeyleix, Co. Laois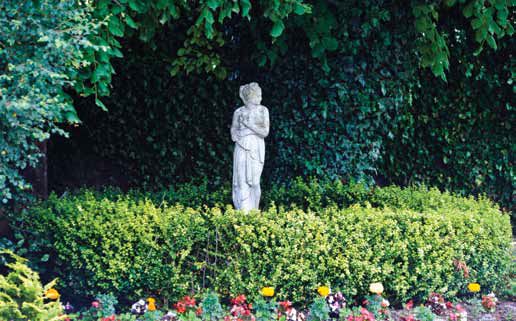 Previously a Brigidine Convent, this 2 acre site was built and planted in 1996 by people with intellectual disabilities – all service users at Dove House.  Their work sits against the backdrop of lime trees, which were donated by Lady de Vesci in 1840.  The aim of the garden is to make visitors more aware of their five senses – Touch, Sound, Smell, Sight and Taste.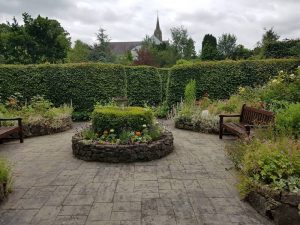 The Fruit and Vegetable Gardens stimulate taste while smell is stimulated by the Scented Garden, which is planted with scented geraniums, scented roses, philadelphus, oregano, lemon balm, honeysuckle and Viburnum bodnantense.  Visitors can wander through the hornbeam maze under the pear archway, which is under-planted with gooseberries, towards the Sculpture Garden.  In the Sculpture Garden there is a willow arbour and, a mosaic has been started by the service users of Dove House.
An impressive feature is the Humming Stone with a hole carved in the middle of it.  A person of any hearing ability can put his/her head in the hole and hear the resonance when others shout into the hole.  The trickling water in the pond and fountain also stimulates the sense of sound.  So do the chimes in the thatched summer house.  A hornbeam tunnel was developed with visually impaired people in mind.  The light draws the eye down the tunnel towards the fountain at the end.  The sense of touch is stimulated by grass and pebbles underfoot and by the different textures of leaves and petals.