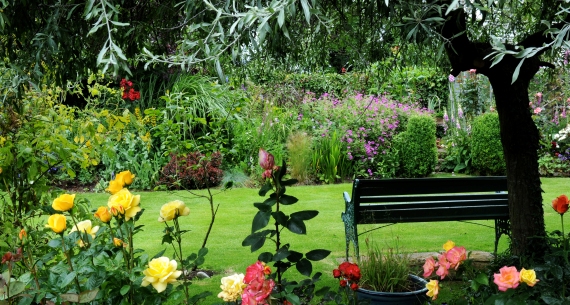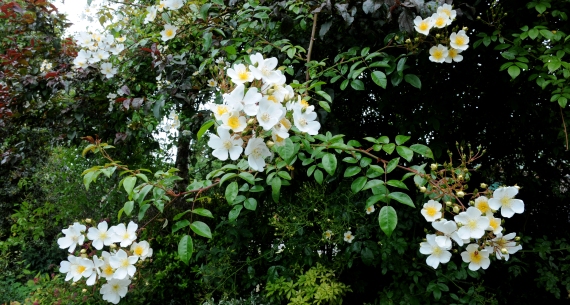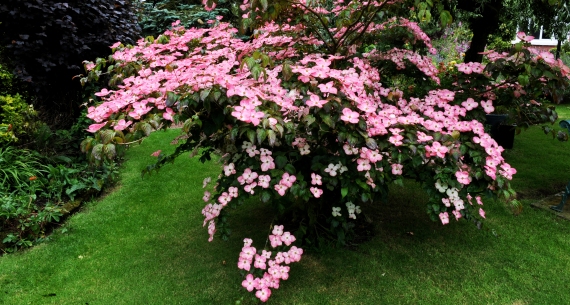 This floral oasis in the Laois farmland was established 15 years ago. In the old farmyard, a sundial is surrounded by box hedging and flowers. A rambling red rose climbs the gable end of an old stone farm building. Near the house, a seated area is shaded by a pergola covered in wisteria. From here visitors can admire the rockeries, the raised lavender bed, the upright yews and the weeping copper beech. A stroll across a small stone path leads to a water feature, constructed to look like a natural spring. A quaint glasshouse, which houses tomatoes and beans, provides support to clematis.
In front of this glasshouse there is a wonderful display of pink lilies and scented pink roses, which complement the pink cornus kousa. Passing tall foxgloves and arching Solomon's seal, visitors will come to a short beech walk. At the end of this there is a piece of bog oak, which is covered in clematis. This leads to a rectangular lawned area, where the lawn is so perfect that croquet is played on it. It is lined on either side by herbaceous borders, which are full of poppies, astrantias, lilies, delphinium, aquilegia, crocosmia, astilbe and nepeta "Six Hills Giant".
Beyond the striking Sambucas nigra "Black Lace" is the vegetable garden, which produces all the standard fare as well as the eye catching red chard. Opposite is the berry garden, which produces blackcurrant, raspberry, gooseberry and blueberry.