Ballintubbert House, Ballintubbert, Stradbally, Co. Laois, R14 E954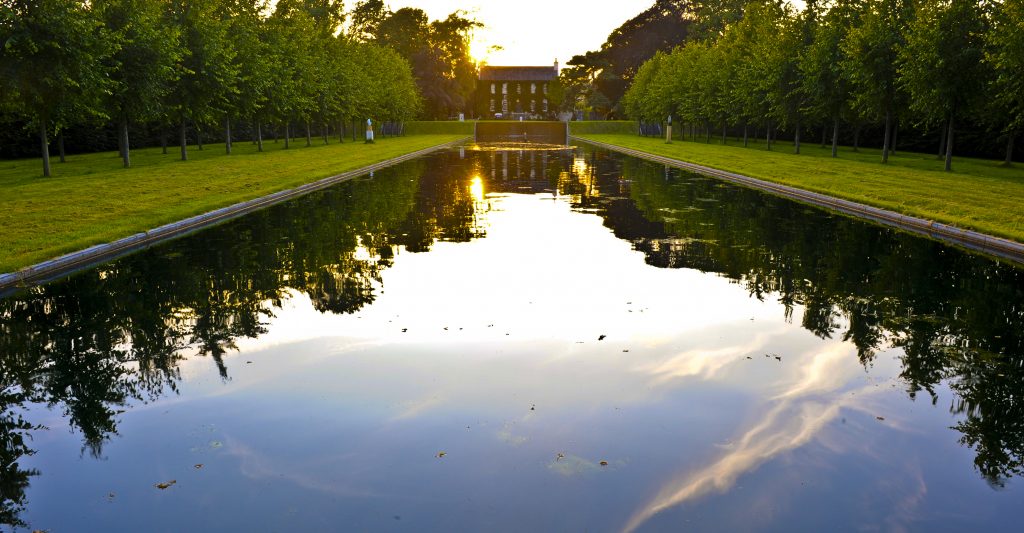 "An enchanting work of art – intimate& extraordinarily peaceful"
Fourteen acres of beautifully designed garden 'rooms'
The historic gardens at Ballintubbert have been expanded with an Arts & Crafts influence to include an impressive variety of garden rooms & pedimented yew cloisters.
This is Ballintubbert, Baile an Tobair – town of the wells & the gardens are blessed with mineral rich water from its aquifers.
Spring is a blaze of Narcissus & Galanthus, Sweet Woodruff Aconite & Leucojum.
Explore the Robinson woodland walk which encircles the 120m formal canal and find such choice specimens as Gingko Biloba, Metasequoia, Fraxinus excelsior 'Pendula', Lquidamber styraciflua. Peony delavayi, Babington Leek and a 15-foot totem pole curved out of an old oak tree, known as the green man.
Delight in the Arthur Shackleton designed garden room, a summer delight with its magnificent Cornus controversa 'Variegata', Sorbuschashmiriana, Baptisia australis, Campanula lactifora andRosa chinensismutabilis andRosa Chinensiswilsonii.
Through the Yew cloisters find the heart of Ballintubbert, the Sir Edwin Lutyens inspired sunken garden, complete with fountain and his trademark stone walls. The planting here is being sensitively restored in the Gertrude Jekyll style.
Relax in the rose garden, surrounded by over 300 roses. View the surrounding countryside from atop the 'Mound' on the 'Great Lawn' and enjoy a cup of tea in the 'Little Orchard'.
Enjoy the abundance of Dahlias in late summer, along with Cannas, Baptisia australis & Strobolanthus wallichii, and autumn sees the fruits of our labour with an ever-abundant crops of soft fruits, fig, plum, cherry, blackcurrant, Fall Gold raspberry, kiwis, walnuts & cobnuts as well as traditional orchard fruits including pears, Jonagold, Katy and Bramley apples.